When most people think of chiropractic care, they immediately picture the spine. Chiropractors are "back doctors" is a common misconception. The truth is that doctors of chiropractic are trained to look at the whole person, not just the spine. The neurology inside and around the spinal column is so important that it is the foundation of chiropractic philosophy, but the truth is, the entire body is controlled by the nervous system.
In the upper limbs for example, there are numerous joints, muscle and ligaments that influence posture, our ability to work and enjoy our life. Sometimes the issue is not in the spine, but in one of the arms or legs. Chiropractic doctors are trained in the anatomy of the human body and actually have more anatomy instruction than their medical counterparts. It is the foundation of what we do. A recent study was published that looked at all of the research related to chiropractic treatment of upper limb conditions. This is important because it gives a single source to study all the research that has been published in the past. In this case since 1982!
The diagnosis and treatment of upper limb disorders is not only a part of the core curriculum of chiropractic education, but is a major part of post-graduate courses on orthopedics and neurology. When it comes to non-surgical care for the upper limbs, chiropractic is aligned perfectly to help restore pain free movement and increase strength all while maintaining the integrity of the chiropractic philosophy. Did you know that 17.1% of all presenting complaints to the chiropractic office are made up of peripheral (arm or leg) conditions with 75% of all chiropractors including adjustments to the nonspinal joints of the body?
The following chart will help you to understand which conditions may respond well to chiropractic. In conditions where there is injury to the muscle or ligament, doctors of chiropractic are trained to use soft tissue and rehabilitative techniques.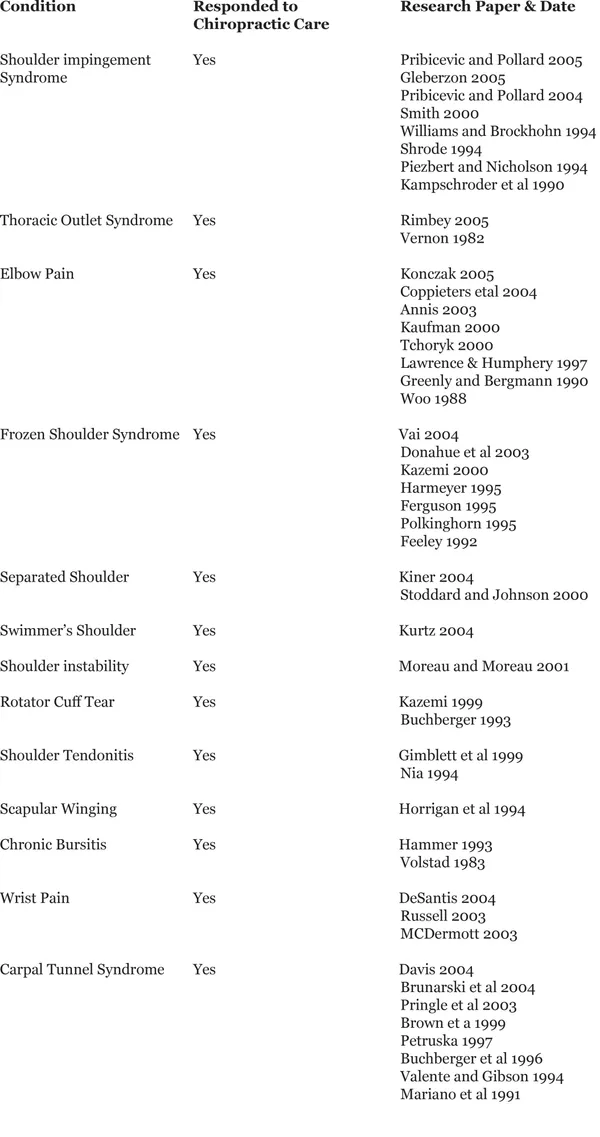 If you are experiencing problems with your shoulders, elbows, wrist or hands it may be time to sit and discuss your situation with a doctor of chiropractic. The conservative and hands on approach may just be what you need.